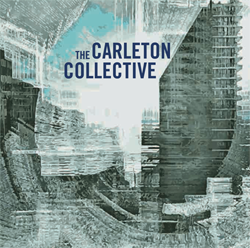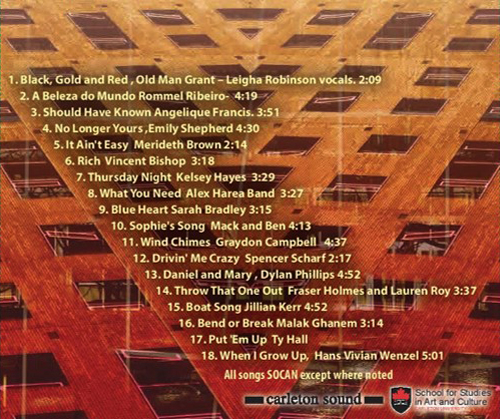 ======
Proceeds from the sale of this CD will be deposited in a scholarship fund established in memory of alumnus Fraser Philip Holmes (1987-2015). The Fraser Holmes Memorial Scholarship will support outstanding Singer-songwriter students in Carleton's Bachelor of Music program.
THE CARLETON COLLECTIVE
In 2017, the sesquicentennial of Canadian confederation(1867-2017), Carleton University is celebrating both its 75th anniversary (1942-2017) and the 50th anniversary of the establishment of its music program (1967-2017). The Carleton Collective marks the occasion with an offering of songs crafted by eighteen rising stars on the Canadian singer-songwriter scene, talent that has been nurtured within Carleton's innovative Singer-songwriter Studies stream. The artists featured on this CD are truly a "collective" in the very best sense, supporting, encouraging and inspiring one another through their work, under the mentorship of Carleton's award-winning Singer-songwriter Studies teaching faculty, including Kellylee Evans, Roxanne Goodman, Amanda Mabro, Lynn Miles, Frank McKinlay, Giselle Minns, Jill Zmud, Ellen MacIsaac and Ian Tamblyn. Composer, poet-lyricist, story-teller, historian, vocalist, instrumentalist, performer and recording artist, the singer-songwriter is perhaps the most "complete musician." During this triple anniversary year, we proudly offer this compilation as a tribute to Canadian youth, Canadian creativity, emerging Canadian talent, and the songwriting craft.
Production Coordinator: Ian Tamblyn
Assistant: Hans Vivian-Wenzel
Compilation Engineer: Ken Kanwisher, Teletune Studio, Ottawa
Mastered by: Phil Shaw Bova
Front and back cover photos: John Wenzel Images, Graphic Design and inside photos: Petr Maur
Manufacturer: Standard Media Services, Ottawa, Chris Saracino, chris@standardmedia.ca
Thanks to: Tasneem Ujjainwala, Jack Coghill, Dean Watson, Dave Bignell, Phil Bova, Anne Lindsay, Frank Koller, Ross Murray, Vera Klein and all of the songwriters and musicians who contributed their work to this project.
Facilitator/contact: Professor James Wright, Supervisor of Performance Studies
School for Studies in Art and Culture: Music
Loeb Building, Carleton University
1125 Colonel By Drive, Ottawa, ON K1S 5B6
THE CARLETON COLLECTIVE
1. Old Man Grant - Leigha Robinson voc. - Black, Gold and Red - Audio Valley Studio, Jensen Grant, producer and engineer, SOCAN. 2:09
2. Rommel Ribeiro - A Beleza do Mundo - Studio 12 Radio Canada, Rommel Ribeiro prod., Jose Americo Bastos eng., SOCAN 4:19
3. Angelique Francis - Should Have Known - Francis Home Studio Angelique and Kiran Francis prod.,Kiran Francis, eng. 3:51
4. Emily Shepherd - No Longer Yours - Gallery Studio, Dean Watson prod. + eng. , SOCAN 4:30
5. Merideth Brown - It Ain' t Easy - Teletune Studio, Ian Tamblyn prod., Ken Kanwisher eng. 2:14
6. Vincent Bishop - Rich - Galler y Studio - Gallery Studio, Vincent Bishop, Dean Watson, prod., Dean Watson, eng., SOCAN 3:18
7. Kelsey Hayes - Thursday Night - Shoebox Studio, Br yan Ruckstuhl prod., Jonathan Chandler, eng. SOCAN 3:29
8. Alex Harea Band - Alex Harea - What You Need - Gallery + Happy Rock Studio, Dean Watson, Ross Murray eng.,SOCAN 3:27
9. Sarah Bradley - Blue Heart - home recording, Martin Charbonneau and Sarah Bradley prod. + eng. SOCAN 3:15
10. Mack and Ben - Mackenzie + Ben DiMillo - Sophie's Song - Gallery Studio - Dean Watson prod. + eng., SOCAN 4:13
11. Graydon Campbell - Wind Chimes - Raven Street studio, Graydon Campbell prod + Paul Langois eng., SOCAN 4:37
12. Spencer Scharf - Drivin' Me Crazy - Gallery Studio, Dean Watson prod. + eng., SOCAN 2:17
13. Dylan Phillips - Daniel and Mary - Mud Shark Studio, Andrew Brittain, prod. and eng., SOCAN 4:52
14. Fraser Holmes and Lauren Roy - Throw That One Out - Church of Sound Studio, Fraser Holmes, Anders Drerup prod., Anders Drerup, Marty Jones eng., SOCAN 3:37
15. Jillian Kerr - Boat Song- Gallery Studio, Dean Watson, prod and eng., SOCAN 4:52
16. Malak Ghanem - Bend or Break - Gallery Studio, Dean Watson, prod. and eng. SOCAN 3:14
17. Ty Hall- Put 'Em Up - Teletune Studio, Ian Tamblyn prod. Ken Kanwisher,eng. ,SOCAN. 2:42
18. Hans Vivian Wenzel - When I Grow Up - home studio, Hans Vivian Wenzel eng. 5:01