The Centretown Laundry Co-operative
By Doug Brodhead, CEDTAP Volunteer

How often do you see a homeless man tutoring a child in math; an immigrant, unemployable, offering sewing services; people painting murals on the wall of an establishment to express their pride? More to the point, how often do you see this happening at a Laundromat?

Shortly after substantial federal and provincial tax cuts were made to social programs in 1994 and 1995, a People's Hearing was held in Ottawa. This hearing allowed low income citizens the opportunity to voice their concerns. Following these discussions, it was clear that one of their main concerns was affordable laundry. In September 1999, the vision of developing an inclusive and equal approach to laundry services for the poor, marginalized, homeless, street cultured, and/or addicted, became a reality. This project was named "The Centretown Laundry Co-operative", located in the Bronson Centre, in Ottawa's Centretown. The Bronson Centre is located in an area where statistics from the Social Planning Council have revealed that 13,000 of its 35,000 residents are classified as low-income. Additionally, it is the location of 26% of Ottawa's programs and shelters for the homeless.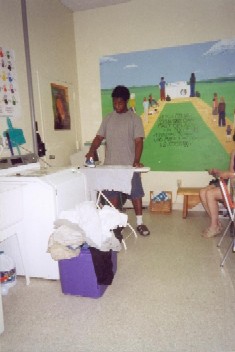 The Centretown Laundry Co-operative is an organization whose functions are twofold. Firstly, it is a self-service Laundromat. It has two washers and dryers (which are wheelchair accessible), and has a social ambience, attributable to its coffee machine, sewing machine, and continual social stimulation. Secondly, it provides market rate laundry contracting services, where income is generated by providing laundry services to neighbouring businesses and organizations.

At the surface level, this business appears to be rather ordinary, offering basic services. However, it is the motivation behind these services that makes this venture an original concept, both in Ottawa, and at the national level. Its mission is to "empower its members—street cultured and those living on low incomes—to set up, run and take ownership of a self-sustaining, affordable and accessible laundry facility geared to their needs." This co-op provides an opportunity for people to discover many of their unrealized gifts and become independent. Ultimately, it strengthens Centretown's ability to respond to poverty.

The First United Church spearheaded this co-op venture. (There are no requirements for participants to be exposed or adhere to the beliefs of the church). The co-op's other partners include the Centretown Community Health Centre and the McLeod-Stewarton United Church. Personnel from these partnerships form a working group named the Management Board. It was the Management Board that created the co-op, however, throughout the organization's creation, they ensured that views from the potential members were taken into consideration. The Management Board is but one of the three groups which takes part in the co-op activities; the members and the staff being the other two groups. Collectively more than 785 people are involved. These people are linguistically, culturally, and socio-economically diverse, possessing varied skills, talents and abilities.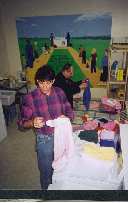 When this business first opened, many technical assistant services were needed. Conveniently, CEDTAP was eager to help. CEDTAP started a one-and-half-year contract with the co-op in 2001, providing them with $14,980 in technical assistance. CEDTAP provided technical assistants, in the form of CED Consultants. These consultants dealt with knowledge development, created a revised feasibility study, launched a business plan, a new organizational model, and a final evaluation report of the project.

Having visited this sud-bubbling, inclusive and productive environment, it is obvious that the co-op leaves people "with clean clothes and clean spirits". If you wish to visit, volunteer, or become a member at an organization which will recreate your concept of a Laundromat, please contact Marianela Santamaria at (613) 565-4712 or visit the Bronson Centre at 211 Bronson Ave., room 106, Ottawa.

Arrière