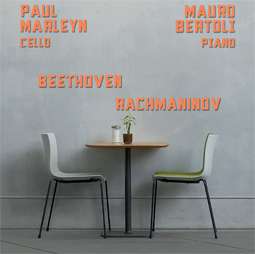 Audio samples:
L. van Beethoven: Piano and Cello sonata n.3, op.69, mvt.1, available on You Tube
L. van Beethoven: Piano and Cello sonata n.3, op.69, mvt.2, available on You Tube
======
Further information, reviews and
purchase info:
(to buy CDs look under Discography)
www.maurobertoli.com
and additional info at:
www.paulmarleyn.com
======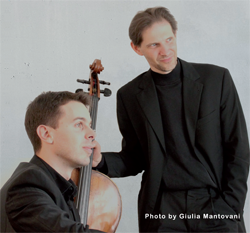 BEETHOVEN RACHMANINOV
Paul Marleyn, cello
Mauro Bertoli, piano
---
L. van Beethoven (1770 – 1827) – Cello sonata n.3 in A major, Op.69
1 – Allegro ma non tanto [12:04]
2 – Scherzo [5:17]
3 – Adagio cantabile – Allegro vivace [7:52]
S. Rachmaninov (1873 – 1943) – Cello Sonata in G minor, Op.19
4 – Lento – Allegro moderato [10:38]
5 – Allegro scherzando [6:17]
6 – Andante [5:42]
7 – Allegro mosso [11:04]
Tot. 58:54
Recorded at Kailash Mital Theatre (Carleton University), Ottawa, ON - Canada
Sound engineer: John Rosefield
CD Layout and Design: Areacom51 by Stefano Cominardi
Introduction to the CD by James Wright

Piano and Cello Sonata No. 3 in A major, Op. 69 - Ludwig van Beethoven
The Cello Sonata No. 3 was written in 1808, Beethoven's most creatively productive year, alongside the Violin Concerto, the 5th and 6th Symphonies, and the two Piano Trios Op. 70. By this time, the composer's withdrawal into the solitude of profound deafness was almost complete. Yet despite his anguish and contemplation of suicide, the Cello Sonata No. 3 is an overwhelmingly optimistic work that conveys a sense of peaceful serenity and joy throughout. Beethoven's first two cello sonatas were largely piano sonatas with cello obbligato (the norm at the time). By contrast, this sonata is the among first of the genre which is perfectly and equally conceived for both instruments. It is noteworthy that the order of the work's three movements (Allegro ma non tanto – Scherzo, Allegro molto – Adagio cantabile, Allegro vivace) are in contrast to the normative prevailing "fast–slow–fast" design. In this sense, Op. 69 is a predecessor of the Piano Trio in B-flat Major, Op. 97 of 1811 (commonly known as the "Archduke Trio"), where the Scherzo also precedes an aborted slow movement that links it to the closing Allegro Vivace.
Cello and Piano Sonata in G minor, Op. 19 – Serge Rachmaninov
Following the public failure of his First Symphony in 1897 (conducted by an allegedly drunken Glazunov), and his failed proposal to pianist Natalia Satina (whose parents thwarted the engagement), Serge Rachmaninov fell into a prolonged period of depression during which he ceased compositional activity altogether. As his despair deepened, the composer underwent an "auto-suggestive therapy" course in early 1900 under the care of the psychologist Nikolai Dahl. We may therefore have Dahl to thank for the period of immense creative fecundity that followed in 1901, with the composition of the Piano Concerto No. 2 in C Minor, Op. 18 (dedicated to Dahl) and the Cello Sonata in G minor, Op. 19. Not surprisingly, Rachmaninov preferred the title "Sonata for Cello and Piano" for the work, given that he viewed the piano as the cello's equal partner in the sonata (most of the themes are introduced by the piano and embellished and expanded by the cello). The Sonata is dedicated to the renowned Russian cellist Anatoliy Brandukov, alongside whom Rachmaninoff gave the first performance in Moscow on 2 December 1901. A gloriously dramatic, expressive and lyrical work, Rachmaninov's Cello Sonata in G Minor has endured as one of the great masterworks of the genre.
© James K. Wright