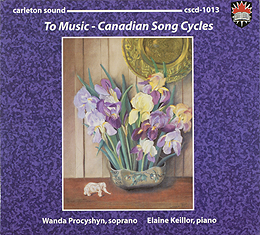 Audio samples (mp3 excerpts):
"The widest land" from "Love in a Life"
Gena Branscombe, pub. 1911.
"Rain" from "Of Time and the World"
John Weinzweig, 1947.
"Le Chat" from "Divertimenti"
Euphrosyne Keefer, pub. 2002.
======
Reviews:
"expertly sung by Procyshynh and sympathetically accompanied by Keillor." Richard Todd, Ottawa Citizen, Sep 11, 2010
CAML Review: Vol 38 No 2 (2010)
======
Elaine Keillor gratefully acknowledges the financial support of the City of Ottawa.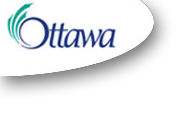 TO MUSIC - CANADIAN SONG CYCLES
Wanda Procyshyn, soprano
Elaine Keillor, piano

---
Produced by: Anton Kwiatowski
Engineered and mastered by: Audio Masters, www.audio-masters.com
Recorded at: City View United Church, 17-19 August, 2009.
Layout and Design: Terry McMillan.
Artwork: Still Life, Leona Allerston Ryan Stevens (1903-71), Private Collection.
Featuring pieces by: Healey Willan, Gena Branscombe, Edward Manning, Robert Fleming, John Weinzweig, Jeanne Landry, Euphrosyne Keefer, Patrick Cardy and Deirdre Piper.
Total timing, 35 CD tracks: 76:43
To Music - Canadian Song Cycles
A few Canadian composers became familiar with the European concept of song cycle through their studies in Leipzig or Paris during the late 19th century. Only in the 20th century, though, do substantial works in this form, a setting of poems by the same author that may relate a story, emerge. Among the previously unrecorded cycles chosen for this recording a variety of musical styles can be heard ranging from the romantic to neo-romantic, the atonal, the evocative or atmospheric, and using musical quotation as well as including references to minimalism and exoticism.
This survey of the genre begins with a cycle by Healey Willan (1880-1968), best known for his choral works. Indeed the opening "To Music" was also set as a choral work by Willan. Using texts by Robert Herrick (1591-1674), Willan wrote this cycle in 1904, nine years before his arrival in Canada from England. Not published until 1983 in the Canadian Musical Heritage series, this cycle consists of three through-composed songs dealing with the power of music. Motives from the first song recalled in the third, "To Becalm a Sweet Sick Youth," underline the cyclic concept.
Born in Picton, Ontario, Gena Branscombe (1881-1977) graduated with gold medals in piano and composition from the Chicago Musical College. Choosing six poems, specifically Nos, 1, 2, 43, 6, 7, 27 of the fourth edition (1856) from Elizabeth Barrett Browning's Sonnets from the Portuguese, Branscombe employs speech-like recitative settings in addition to lyrical passages to consider the roles of death and love in life. This late romantic musical language truly suits the 19th century poetry. Like Willan, she brings back motives from the first song in the last "My Own Beloved."
Edward Manning (1874-1948), born in Saint John, New Brunswick, studied with Edward MacDowell before furthering his musical education in Berlin and Paris. His delightful Limericks of 1911 show the humour that understates some Canadian compositions. The conclusion of "The Monk of Siberia" quotes a portion of Mendelssohn's Wedding March.
Robert Fleming (1921-76), a native of Saskatchewan, worked for the National Film Board of Canada from 1948 to 1970 composing music for over 200 films. He then became a professor at Carleton University, Ottawa. Prior to concentrating on film music, Fleming composed Secrets. His early composition teacher was Healey Willan who may have alerted Fleming to investigate the poems of the Welsh writer, William Henry Davies (1871-1940) who finally became well-respected in the 1920s. As a vagabond Davies had travelled to Canada, hoping to take part in the Klondike gold rush. However, in an attempt to jump from a freight train in Renfrew, Ontario, his right foot was crushed and the lower part of his leg was subsequently amputated. His texts of Secrets first appeared in Harper's Magazine (October 1923). In addition to film music, Fleming wrote much choral music. Possibly his most famous composition is the later song cycle, The Confession Stone.
John Weinzweig (1913-2006) after the death of Willan became known as the Dean of Canadian music. He was the first in Canada to apply the 12-tone technique of composition and taught several generations of composition students. As can be heard in the cycle Of Time and the World using his own texts, Weinzweig combines elements of the serial approach with rhythmic aspects of Stravinsky in a post-romantic lyrical application.
Jeanne Landry (b. 1922), a native of Ottawa, became a well-known pianist, duo-pianist, and collaborator with singers performing widely in Europe and North America. Among her composition teachers were Claude Champagne and Nadia Boulanger. From 1951 until 1989 she taught at Laval University. Her output includes some 70 compositions and over 300 poems. In her cycle Amour comme un oiseau captif Landry used her own poems.
Similarly the English-born Euphrosyne Keefer (1919-2003) used her own texts for Divertimenti. These amusing poems were written for her grandchildren after she and her husband had raised five children in Canada's Northwest Territories and Saskatchewan. Obviously written for children, Keefer captures the mood and nature of each of the animals, cat, elephant, and bear. References to musical styles such as South Indian flute music in "L'éléphant" indicate the widening of influences upon Canadian composers in the last third of the 20th century.
Several styles including the scat singing of jazz appear in the musical language that Patrick Cardy (1953-2005), a former professor of Carleton University, Ottawa, used for setting his highly evocative and descriptive texts. The cycle Autumn was the commission of the Eckardt-Gramatté Vocal Competition held in Manitoba in 1992 and performed by all participants. Subsequently this cycle with its fascinating rhythmic complexities has been embarking on becoming part of the standard vocal repertoire.
Recently retired as a professor from Carleton University, Deirdre Piper (b. 1943) selected sensual poems in English translation from the Sanskrit for her cycle. Elements of Indian musical idioms occur in the piano accompaniment as well as some of the vocal gestures. Using the piano and the voice in an expressive way, this cycle brings us to the 21st century where musical composition is a fusion of the world's musical styles, harmonies, and rhythms.
© Elaine Keillor