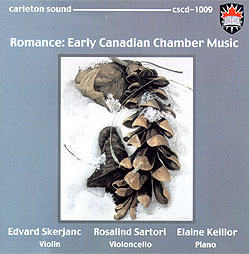 Close-up image of the Cover Art
Audio samples (MP3):
coming soon!
ROMANCE: EARLY CANADIAN CHAMBER MUSIC
Edvard Skerjanc - Violin
Rosalind Sartori - Violoncello
Elaine Keillor - Piano
Chamber music in the sense of small groups of Western instruments playing together has been a part of the Canadian scene since the mid-seventeenth century Several viols were known to be played by members of the Ursuline order and their Amerindian students during church services and possibly at other events in New France. A week before the downfall of Louisbourg; in 1745, the British preparing for war and celebrating the birthday of King George 11 had musical selections played by violin and flute together. By the 1790s reports exist of the latest string quartets and quintets by Haydn and Mozart being played by a group led by Jonathan Sewell Jr. (1766 - 1839), a violinist and lawyer in Quebec City. Concert programs of the same decade from Halifax indicate at least nine different chamber works for string quartet, quintet, or wind ensemble were performed.
Canada had its first original opera premiered on 14 January 1790. The composer of Colas et Colinette, Joseph Quesnel (1746 - 1809) is reported to have written both symphonies and string quartets, but sadly none of these manuscripts have been found. During the nineteenth century other Canadians such as James P. Clarke (ca. 1807 - 1877) were reported to have composed for chamber ensembles, but only the occasional short piece written for flute or violin with piano has been located by the Canadian Musical Heritage Society (www.cmhs.carleton.ca) to date. Even the two sonatas for violin and piano by Hugh Clarke (1839 - 1927), thought to be the earliest Canadian-born writer of sonatas, have not been located.
This recording includes one of the three outstanding extant piano trios written by Canadians before 1922 and included in volume 11 of the Canadian Musical Heritage / Le Patrimoine musical canadien (Ottawa: 1989). In addition a selection of works for violin and piano or cello and piano published in volume 23 (Ottawa: 1998) plus an unpublished Cello Sonata are included.
The Piano Trio, Opus 11, of Edward B. Manning (1874 - 1948) probably had its origin early in the century although the manuscript does indicate some revisions being made as late as 1943. Manning was probably born in Saint John, New Brunswick, and was second violinist of the Mozart String Quartette of that city in the 1890s. He was also a pianist for
silent movies, but began teaching piano at the Oberlin Conservatory after having studied with Edward MacDowell in New York. Before teaching at Columbia University in New York from 1914 to 1919, he studied with Engelbert Humperdinck in Berlin and Paul Antonin Vidal in Paris. Manning later was involved with the music programs of the New York City schools.
The first movement of the Piano Trio for Pianoforte, Violin and Violoncello has two contrasting thematic groups, each of which is distributed between the three instruments. After the extensive development section, a truncated version of the first group reappears followed by two interesting transformations of the second group, one as maestoso in the
tonic major key and another as tranquillo in the home minor key The movement ends with a brilliant rendition of a portion of the opening group. In the second movement the violin and cello take turns presenting the main melody over a rippling piano accompaniment. The agitated contrasting middle section leads to the harmonic re-working of the opening section to conclude with a quiet coda. The third movement opens with a rollicking theme in the cello that is related to one of the themes used in the first movement. Both this material and a rhythmically contrasting second group are re-examined in an extensive development section. The recapitulation of the two groups is brief in order that an exciting coda based on the opening motive can conclude this well-crafted work.
As yet, no sonata for cello and piano by a Canadian, written before 1940, has been published. Some sonatas such as that written by Oscar O'Brien based on the folksong Dans les prisons de Nantes and performed at the Canadian Pacific Railway Quebec City Festival in 1927 have no known location for their manuscripts. The Cello Sonata by Leo Smith (1881 - 1925) exists in a manuscript as a three-movement work, copiously marked with deletions and changes in the Smith Fonds of the National Library of Canada. This work won a CPRS (Canadian Performing Rights Society / Société canadienne des droits d'auteurs) prize in 1943. For this recording the performers edited the last two movements which are thematically linked. The theme of the lyrical slow movement which features a rocking ostinato figure and modal harmonies reappears at the beginning of the final movement. This haunting theme continues to reappear in between sharply contrasting sections of rollicking humour, brilliance, and poignant lyricism.
Leo Smith, was known as a child prodigy on the cello in his native England, and performed in the orchestras of Hallé and the Royal Opera House. After arriving in Canada in 1910, he soon was appointed to the staff of the Toronto Conservatory of Music and became a cellist in Welsman's Toronto Symphony. In 1927 he became lecturer in music at the University of Toronto and from 1932 to 1940 was principal cellist of the Toronto Symphony Orchestra.
It is known that Leo Smith became quite interested in Canadian folk music, probably through his connections with Ernest MacMillan and Marius Barbeau. On the title page Smith wrote that the Indian Romance was based on "an Indian fragment." Possibly the initial descending contour of the melody and the reiteration of the three-pitch opening came from materials collected by Barbeau.
Romance (1900) for cello and piano was written by Alexis Contant (1858 - 1918), the composer of another fine Piano Trio. Because his son was a cellist, it is not surprising that this is one of six pieces written for the instrument between 1897 and 1907. This particular work was dedicated to Jean-Baptiste Dubois (1870 - 193 8). The leading cellist in Quebec at the time, he premièred the work in Montreal on 6 April 1900, and it was performed again for the all-Contant concert in 1907.

Gena Branscombe (1881 - 1977) born in Picton, Ontario, received gold medals in both piano and composition in Chicago at the age of 20. With her earnings as a teacher she managed to spend 1909-10 in Berlin, Germany, where she studied with Engelbert Humperdinck. During that year she received high praise for her piano playing and compositions. Back in the United States, she became known as a choral director and in 1928 succeeded Amy Beach as president of the Society for American Women Composers. The same year she became conductor of the American Women's Association Orchestra in New York City. She wrote in a wide range of genres and completed 21 works for violin and piano.
Her Sonata in A minor dates from 1920, the year that it was premièred at a concert in Toronto, sponsored by the Women's Art Association. This one-movement work opens with a restless introductory section that is followed by three contrasting thematic groups. The first is lyrical and tender, the second dance-like in character, while the third forms the majestic pinnacle of the work. Following a brief scherzando interlude, the introduction and first theme return unaltered. Then the second group is modified, and the third is considerably re-scored to end the work triumphantly.
Clarence Lucas (1866 - 1947) was born on the Grand River Indian Reserve (near Brantford, Ontario) where his father was a Methodist missionary. The family moved to Montreal in 1878 where Lucas received his formal musical studies. He then studied at the Paris Conservatoire. Upon his return to Canada, he taught at various institutions before becoming an editor of the New York Musical Courier (1909 - 1919). His later life was spent divided between France and England as he composed and worked as a freelance music editor. He probably wrote Légende shortly after his Ballade for violin and orchestra, and his oratorio The Birth of Christ, both published by Chappell in 1901. Using a popular title of the late nineteenth century, Lucas has written a well-crafted work with deft use of chromaticism.
Born in Guelph, Ontario, and raised in Winnipeg, Laura Lemon (1866 - 1924) went to England to study in 1890. She became very famous as a writer of songs, her most famous being My Ain Folk, a ballad of home. Her Three Moravian Dances (1910) of which the third is the Mazurka were dedicated to the great Canadian violinist Kathleen Parlow (1890 - 1963). Calgary-born Parlow was also largely based in England at the time, having become well-established on the international concert circuit during the previous five years. Moravia, located between Bohemia and Slovakia, was a part of the Austro-Hungarian Empire in 1910.
Rodolphe Mathieu (1890 - 1962) was a member of Alfred La Liberté's circle in Montreal. While a student of Contant, he studied on his own the works of Scriabin. Using a dissonant and highly chromatic harmonic idiom that he developed out of his familiarity with the works of Scriabin, Mathieu composed the striking Trois Préludes for piano or orchestra. He quickly followed those in 1915 with the Lied. When it was published, Canada Musical 17 December 1921 commented: "Lied for violin and piano or organ will certainly please all those who like the strange harmonies of the modem school." It was performed in Paris in May 1934 by violinist Lucien Bellanger and pianist Léo-Pol Morin at a concert commemorating Jacques Cartier's Canadian voyage of discovery in 1534.
Born in Montreal, Claude Champagne (1891 - 1965) studied piano, violin, and theory there. For several years in the 1920s he studied in Paris receiving considerable recognition as a composer. Upon his return to Montreal in 1928, he became the most important teacher of the next generation of Quebec composers. Habanera uses the rhythm of the famous slow Cuban dance that became so popular after Bizet's aria 'Tamour est un oiseau rebelle" in Carmen. Along with Champagne's Danse canadienne, Habanera was premièred on 19 March 1929 by the violinist Annette Lasalle-Leduc with Léo-Pol Morin at the piano.
ELAINE KEILLOR
---
Edvard Skerjanc studied the violin in Zagreb (Croatia) with Renata Senc6i~, then in Russia with Naurn Pover and Isaac Reider. After a number of performances in Europe, he settled in North America. Among his coaches in the United States was Leopold La Fosse. In 1990 he joined the National Arts Centre Orchestra in Ottawa (Canada). Since then, he has also participated in various chamber ensembles in Ottawa and London (Ontario).

Rosalind Sartori studied both piano and cello at the Royal Conservatory of Music (Toronto). She continued her cello studies with Robert Swenson at the University of Illinois and performed at Orchestra Hall, Chicago, as recipient of the Dasch Award. Her master's degree was completed under Gabor Rijto at the University of Southern California (Los Angeles). Before joining the Toronto Symphony, she taught cello and theory at the University of Colorado, After seven years with the Toronto Symphony, she became a member of the National Arts Centre Orchestra. In Ottawa she has performed much chamber music - a love dating back to early family trios in Toronto.

Elaine Keillor was the youngest to ever receive the ARCT degree from the Royal Conservatory of Music (Toronto) with all of the theory exams completed at the age of ten, and the first woman to receive a Ph.D. in musicology from the University of Toronto. She has performed in recitals and as soloist with orchestra on piano and harpsichord throughout North America and in Europe. After teaching at the University of Toronto, York, Queen's, and McMaster Universities, she has been since 1977 a professor at Carleton University, Ottawa. Now chair of the Canadian Musical Heritage Society, Dr. Keillor has edited Piano Music 1 (1983). Piano Music 11 (1986), Music for Orchestra (1994), and Musicfor Orchestra Iff (1995). She is also the author of John Weinzweig: The Radical Romantic of Canada (Scarecrow Press, 1994). In January 1999 she was the inaugural recipient of the Canadian Women's Mentor Award in the "Arts and Culture" category. Her recent recordings, Views of the Piano Sonatas, By 'A Canadian Lady ", Legend of the First Rabbit, Canadian Compositions for Young Pianists, have been praised for their "impeccable pianism" and musicality.

Produced by Michael Bussière
Engineered by: Marc Parizeau, PAZ Productions
Mastered by Michael Bussière, Shark Fin Digital
Recorded at Ottawa, Raven Street Studios, 7-8 July 2001.
Layout and design: Kerry Armstrong