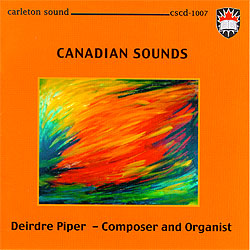 Close-up image of the Cover Art
Audio samples (MP3):
(Coming soon)
CANADIAN SOUNDS
DEIRDRE PIPER, COMPOSER AND ORGANIST
Until the publication of volumes 4 and 19 in the CMH Society series, Canadian organ music prior to the Second World War remained in some obscurity. That which had been published has long been out of print, and much has never been published. The music of Healey Willan is one of the few fortunate exceptions. By and large an enormous corpus of Canadian organ music remains unknown, unexplored, and unplayed. Most scholarly histories of Canadian music pay scant attention to this hitherto rather inaccessible repertoire, and our picture of Canadian musical life during this period has therefore been seriously incomplete.
Organ building and playing by Canadians have a long history. We know that Quebec City had an organ in use as early as 1661 - possibly earlier. During the early decades of the nineteenth century Canada became home to many accomplished immigrant organ builders. The Englishman, Richard Coates, arrived in 1817; the French builder Jean-Baptiste Jacotel settled in Montreal in 182 1; and the American, Samuel Russell Warren (father of Samuel Prowse Warren, the composer recorded here) settled also in Montreal in 1836. The Canadian-born Joseph Casavant produced his Opus I in 1840 for the church of St-Martin-de-Laval, thereby firmly establishing the Canadian industry. With good instruments there quickly developed a growing tradition of fine Canadian organists, many of whom were able to establish an international career in the United States, England and Europe. Some of these organists were also composers. Sadly, it is their music which has for so long been neglected. The pieces recorded here offer a varied taste of this repertoire. In length and style these pieces contrast enormously, but every one is well crafted and aptly written for the instrument.
Also contained on this disc are two chamber works by Deirdre Piper: Diversions (1998) and Khoreia (1992). She was born and educated in the United Kingdom, studied at the University of Manchester (PhD in historical musicology) and at the Royal Manchester College of Music (organ and cello).Having held teaching positions at the University of Manchester and Huddersfield Polytechnic, she is currently at Carleton University as Associate Professor of Music and Supervisor of Performance Studies. She is active as a performer (organist, pianist, choral conductor), and is Organist and Director of Choirs at St Matthias Anglican Church in Ottawa. As a composer, she has produced works for various solo, chamber and choral media. She is a member of the Royal Canadian College of Organists, the Canadian League of Composers, the Association of Canadian Women Composers, an Associate Composer of the Canadian Music Centre, and affiliated with SOCAN.
Diversions (1998) was written for, and at the request of, the Ottawa-based saxophone quartet "Saxart". The work is cast in three movements. The first, after an introduction, settles into a relaxed allegretto of freely evolving ideas. The second movement (slow) is a passacaglia whose theme is given out at the beginning in the high register of the baritone. The final movement is a tightly knit rondo structure in an overall aba form, the b section recapitulating at a fast tempo the passacaglia theme of the second movement. The pitch material of the entire work is derived from a single unordered set of tones which, in ascending sequence, form a "scale" of interlocked tone - semitone units. (This arrangement of tones appears as the Third Mode of Limited Transposition in Olivier Messiaen's Technique de mon langage musical, 1942). Despite its structural technicalities, the work was designed to entertain - in all senses of that term; thus the work's title.
The unpublished Sonata in C minor (1939) by the Vancouver organist Frederick Chubb (1885-1966) is a monumental virtuoso work of four movements, premiered by the composer at the regional convention of the American Guild of Organists in Seattle in 1940. The first movement, now published in CMH 19 from a manuscript dated 1941, illustrates the scale and orchestral conception of the work. This movement is cast in a sonata-allegro form of considerable subtlety and ingenuity. The three principal themes of the exposition all undergo fascinating rhythmic and tonal transformations in the brilliant, exciting middle section which culminates in a full-organ presentation of a form of the first theme in E flat. The recapitulation that immediately follows turns every expectation upside down: the first theme (in C minor) is heard, plaintively this time, over a dominant pedal which also supports a restatement of the second theme, this time in C major. Over this continuing dominant pedal the move to the final triumphant statement of the main theme gradually builds, using sequential repetitions of phrases from the second theme. This is composition of a high order. It is to be hoped that publication of the entire work will materialize before too long so that it may be taken into the repertoire of some of Canada's enterprising concert organists.
The Montreal-born organist William Reed (1859-1945), after holding an organ scholarship at Keble College, Oxford returned to Canada, and between 1884 and 1913 held a series of posts as organist-choirmaster at churches in Sherbrooke, Montreal, Toronto and Quebec City, until deafness forced his retirement from performance. During a long productive life he published over fifty vocal and instrumental works, including the two organ pieces re-printed in CMH 4: the Grand Choeur in D, and Cantiliène recorded here. Cantiliène is a simple little piece whose charming oboe tune saves it from succumbing to its otherwise rather predictable course. It was published by Charles Vincent (London) and Oliver Ditson Co. (Boston) in 1900 as part ofa collection entitled Organ Solos suitable for Recitals.
Fugue (op.36 no.2) by the Ontario-bom Clarence Lucas (1866-1947) is dedicated to Edwin H. Lemare, the brilliant English concert organist. The piece (the second of three - Offertorium, Fugue, Gloria - published as op.36 by B. Schott's Söhne, Mainz; undated) appears to have been written just prior to 1900, and so might well have been presented to Lemare for his Canadian and American tour of that year. Lucas himself worked in London from 1893 to 1908, first as a journalist and subsequently as an editor for the long-established music publisher Chappell & Co. This finely wrought fugue offers all the usual tricks of inversion, streno, and a final pedal entry in rhythmic augmentation. While one may detect an air of musical academicism here, as well as more than a touch of ecclesiastical solemnity (and in this, incidently, quite in contrast to the bulk of Lemare's own original concert repertoire), the piece never descends to mere formula: the central episode, with its refreshing dotted rhythm and surprising tonal flexibility, provides a welcome foil to the staid solemnity of the expository section while it generates expectation of eventual stretto as the start of the inevitable drive to the full organ peroration.
The virtuoso concert organist Samuel Prowse Warren (1842-1915) composed, as far as we know, only one original piece for organ: the Prelude and Fugue in A flat major, published in 1900 by G. Schirmer (New York), with another prelude and fugue for piano. This is a matter for some regret since the piece, expertly written for the instrument (as one would expect) displays a sure instinct for tonal and contrapuntal structure, as well as a style which, despite its obvious Mendelssohnian roots, presents a healthy freshness of manner. This is truly a gem. The two movements are integrated by a commonality of motif. The fugue subject derives its opening from the initial figuration of the prelude, and the subject even appears partially formed during the latter part of that movement. Thus the fugue arrives as an inevitable outgrowth of developments within the prelude. In manner the prelude has something of the air of a graceful, exploratory pastorale, while the fugue, in its solidity of technique, is self-assuredly urbane.
Romain-Octave Pelletier (1843-1927) was a man of many parts: organist, pianist, composer, educator, and a qualified legal notary. As a musician he was largely self-taught, taking occasional lessons as opportunities arose, particularly during a European visit during 1871-1872 in London and Paris. Despite this lack of formal training, Pelletier, during a long career, earned great respect from the Canadian musical world. The long list of his pupils includes Clarence Lucas and William Reed, both recorded here. The 10 Petits Morceaux de différents caractères, op.3 (published in New York by G. Schirmer in 1870) were written as illustrative examples of musical forms and techniques to complement Pelletier's educative writings and lectures. The set is reminiscent of many collections of the period designed to supply amateur organists of limited technical ability with simple voluntaries for church use. Each piece in Pelletier's collection is very brief, the one recorded here (no.8) being one of the longest at 24 bars. It illustrates in the most direct manner a classical aba structure, the middle section being in the key of the dominant and of more fluid phrase structure than the outer sections (each of two 4-bar periods), the second of which is a simple figurative variation of the first. For all its simplicity, the little piece has an innocent charm.
The Scottish organist and composer Thomas James Crawford (1877-1955) came to Toronto in 1922 to take up an organist post at St Paul's Bloor Street Anglican and a teaching position at the Toronto Conservatory of Music. Previously he had enjoyed a busy professional life in Leipzig and London, including seven years as assistant organist at Westminster Abbey. Toccata in F major was published by Bosworth & Co. (London) in 1904. Clearly conceived as a recital piece, it would have been very appropriate as an item in the then increasingly popular town-hall recitals in Britain. Secular in tone and technically demanding, it calls for a fairly large instrument of considerable tonal variety.
Khoreia (1992), a trio for clarinet, cello and piano, is a piece that incorporates material from a previous theatre piece of 1991 (The Seven Questions). Khoreia, while conceived as chamber music, evokes, in its various moods and rhythmic patterns, images of dance movement and gesture. It is, perhaps, a work in search of a dancer. The piece, played without break, falls into six sections. After a brief opening clarinet flourish, the first long section (which itself takes an aba 'b' form) articulates continuously changing rhythmic groupings of eighth notes. From a final climactic clarinet high F sharp, the music moves into a second section characterized by a repeated dotted rhythm centred on the diad C-D, and chromatic scales; towards the end, we hear again one of the principal melodic motifs of the previous section. A complete change of mood is now heralded by a short rhythmically free passage sounding harmonics of a fundamental C that have, in fact, been the progenitor of both previous sections and, indeed, remain the root tonal cause of the entire piece. This third section is very peaceful, still, quiet -and, again, its conclusion is marked by the sounding of the first section's principal motif, this time softly in the piano high register. Another contrast of mood in a fast 7/8 time immediately follows. This change signals a large section of aba structure in which the b section (slow) is of a ghostly, dream-like nature. Following the recapitulation of this section's a component, we hear a short return of the C-D diad material of the second section, but very differently articulated, which then, after a brief reminiscence of the 7/8 theme, moves into a fast two-voice textured concluding section.
DEIRDRE PIPER
---
PERFORMERS
Diversions: Saxart - Jean-Guy Brault (soprano) Noël Samyn (alto) René Lavoie (tenor) Peter Smith (baritone)
Khoreia: Peter Smith (clarinet) Joan Harrison (cello) Elaine Keillor (piano)
Organ pieces: Deirdre Piper, on the organ of St Matthias Anglican Church, Ottawa.