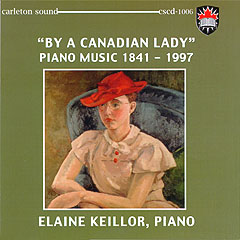 Close-up image of the Cover Art
Audio sample (MP3):
Prelude from the Deuxième Suite pour Piano (Rhené Jaque)

"BY A CANADIAN LADY" PIANO MUSIC 1841 - 1997
ELAINE KEILLOR, piano
Even with the limited accounts of music making in New France, references can be found to women musicians. Mother Marie de Saint-Joseph of the Ursulines was teaching Native girls to play the viol and sing. Apparently twelve- year-old Agnes became so proficient that she was called upon to play during the religious services in 1640. However, when Laval arrived as bishop in 1659, the Ursulines were told that their musical performances were too elaborate and they were allowed only to perform the Vespers and Tenebrae in more elaborate musical settings than recited chant. Early in the 1700s the hundreds of motel manuscripts extant in Archives including that of the Ursulines and the women's order of Saint Augustine suggest that women were again performing more elaborate compositions and were possibly even composing same. Mother Marie-Andrée Duplessis de Sainte-Hélène (1687-1760) in 1718 prepared the first North American treatise on musical theory.
After New France became a colony of Britain, collections of music used by women are more frequently preserved. In some of these unsigned, otherwise unknown compositions appear that may have been created by the owner of the collection. This recording of works composed by Canadian women begins with A Long Time Ago In the Future. The title is an Amerindian saying which confirms belief in the continuity of all things. In this composition Mary Gardiner also draws upon a Native-Canadian Dene Dogrib Prayer Song which was recorded by Keillor during field work at Rae-Edzo in the Northwest Territories in 1984. Women of the Indigenous cultures of Canada have participated in music- making and in creation since time immemorial and in part Gardiner through her composition and title comments that this is continuing today.
The earliest available published composition written by a Canadian woman is the Canada Union Waltz whose title refers to the union of Upper (presently Ontario) and Lower (presently Quebec) Canada as recommended in Lord Durham's report of 1840. The use of a pseudonym, the cultural practice of the day that encouraged women to be accomplished musicians in the home but frowned upon their public recognition, is fully in evidence. This sophisticated version of the waltz was also published in the popular New York periodical The Albion: Or, British, Colonial, and Foreign Weekly Gazette 20 (1 January 1842). Because Josephte Desbarats Sheppard had a piano work published in New York in 1856 and was known as an accomplished pianist in Quebec City, it has been suggested that she might be "the Canadian lady."
Frances J. Hatton was the daughter of the English musician/entertainer John Lystrott Hatton (1809-1886) and came to Canada in 1869 to be a singing instructor at the Hellmuth Ladies College in London, Ontario. She later married the physician Charles G. Moore and subsequently often used an hyphenated name for her publications; some of which appeared in the Ladies Home Journal. In 1886 she was the only woman composer "deemed worthy to pass" in an anonymous composition competition sponsored by the Ontario Music Teachers' Association (later the Canadian Society of Musicians). [The three male composers also picked were A.E. Fisher, Davenport Kerrison, and Dr. G.W. Strathy, all considered to be among Canada's most gifted musicians at the time.)
Susie Frances (Riley) Harrison (1859-1935) was educated in Toronto and Montreal. At age 16 she began to have her writings and verse published under various pseudonyms, most frequently as Seranus. For her musical publications of piano music and songs, she also used Gilbert King. Dialogue is the middle piano piece of the set Trois Esquisses canadiennes published under her initials S.F. and with her married name of Harrison in 1887. By this time she had become an enthusiast of French-Canadian folksong and frequently gave lecture-recitals on this rich heritage. Among these folksongs are those of the dialogue genre in which two persons or a person and a group alternate to present the story. Later in life as an active educator and writer in Toronto, Harrison probably created the first string quartet composition by a Canadian woman.
Gena Branscombe (1881-1977) received her early musical education in Picton, Ontario, and then studied at the Chicago Musical College where she won gold medals for piano and composition. She became director of the piano department at Whitmore College in Washington, D.C. and later became well-known as a conductor, particularly of choral ensembles. She wrote a wide range of songs, choral pieces, chamber, orchestral works and a choral drama Pilgrims of Destiny (1926). Valse-Caprice written in 1900 was performed by her in recital in Germany in 1910 where the reviewer of the Continental Times praised its skilful writing for piano and its fresh harmonic ideas.
Barbara Pentland (b. 1912 in Winnipeg) had her first formal studies in composition with Cécile Gauthiez in Paris in 1929. From 1936 to 1939 she studied on scholarship at the Juillard School of Music in New York. Rhapsody 1939: The World on the March to War Again composed upon her return to Winnipeg reveals many aspects of her mature style: linear counterpoint, emphasis on particular intervals, directness of line, and sparse texture. While teaching at the University of British Columbia, Pentland influenced many students on the west coast, but later devoted herself to producing a large oeuvre that includes outstanding chamber works and effective settings for voice that often use the words of Dorothy Livesay.
Rhené Jaque (born Marguerite Cartier in 1918) is an example of a Quebecois woman who prior to the 1960s chose to become a nun in order to obtain an education. She studied at Vincent d'Indy School and the University of Montreal with Claude Champagne, François Morel, Jean Vallerand, and Marvin Duchow. Becoming a teacher of violin and cello at the Vincent d"Indy School she has composed in many gneres including songs, chamber and orchestral works. Her brilliant Deuxième Suite pour piano is typical of her mature atonal style often combined with bi-tonality.
Violet Archer (b. 1913 in Montreal) obtained degrees from McGill (1936) and Yale Universities (1949). Among her teachers were Paul Hindemith and Bela Bartók. She subsequently taught at several institutions in the USA before being called upon to initiate the study of musical theory and composition at the University of Alberta in 1962. Archer has taught many of the leading young composers of Western Canada and has continued to add to her own oeuvre of over 350 works. Four Bagatelles were written in 1977 to state concisely four contrasting moods through the medium of the piano.
Nicole Carignan (b. 1952, Plessisiville, QC) is well-known as a music educator giving workshops and lectures around the world. She has been commissioned for many works ranging from those for solo instruments through orchestral works that have had a number of performances. Contrapunto and Circulos, rombos y triangulos are two pieces in the set Quiebra which is a Spanish word meaning "rupture." Each of the pieces is concerned with the creation of a sound equivalent for certain mathematical concepts such as lines, circles, parallelograms such as the rhombus, and triangles.
Maya Badian (b. 1945, Bucharest, Romania) emigrated to Canada in 1987 after having established herself in Europe as a skilled composer of chamber, choral, and orchestral works. Recently her symphonic work Holocaust-In Memoriam (1989) has been performed several times in North America and Europe. Her compositional style draws on main currents of twentieth century European composition, but is strongly affected by influences of the rich, folk- music heritage of Romania and more recently that of Canada. Portrait is dedicated to her friend Delia Banc, also a new Canadian originally from Romania.
Alexina Louie (b. 1949, Vancouver) of third-generation Chinese-Canadian heritage has been widely recognized for her orchestral works that explore the fields of orchestral colour and texture. In addition to incorporating eastern- influenced sounds in her compositions, she often embodies Asian reverence for nature through the selection of texts and titles such as Starstruck. Divided into the opening section, Starstruck followed by Berceuse des étoiles and Epilogue, this piano piece explores a range of delicate sonorities available from the instrument.
Elma Miller (b. 1954, Toronto) of Estonian heritage graduated from the University of Toronto but also studied in California and England. She considers fellow-Estonian composer Udo Kasemets and communications guru Marshall McLuhan to be important influences upon her music. Her expressionist style is characterized by its robust use of colour and rhythm and often has an air of humour. Voices in Stone refers to the cuneiform inscriptions carved on a sheer rock face, some 500 feet above ground level, at Behistan in Iran. The poem is attributed to King Darius 1, 521- 485 BC, but its meaning was only deciphered once again in 1835 by Henry Creswicke Rawlinson. The music mirrors the three periods: first the carving into stone, then civil war, chaos, and the twenty forgotten centuries until, finally, the moment when these ancient scripts could again be read and understood. The piece ends in an intoxicating dance of discovery.
ELAINE KEILLOR
Elaine Keillor has had her "adept well-schooled" piano playing described as "conveying a sense of magic, of enchantment in music that is rare." Beginning her public recitals at the age of two, Keillor became the youngest graduate ever in piano performance of the Royal Conservatory of Music (Toronto) with all of the theoretical exams completed at the age of ten. Her principal teachers in Canada were her mother and Reginald Bedford with further coaching from Carl Friedberg, Claudio Arrau, Harold Craxton, and Verna Jacobson. She has toured across Canada and given recitals and orchestral performances in North America and Europe as well as appearing regularly on the CBC, NBC, TVOntario, radio and television programs.
In 1976 Keillor obtained the Ph.D. in musicology from the University of Toronto and has taught at Toronto, York, Queen's, McMaster, and Carleton Universities. She is principal investigator of the Canadian Musical Heritage Society, an organization devoted to the research, editing, and publishing of Canadian music composed before 1950. Dr. Keillor has written articles on many aspects of Canadian music, and the monograph John Weinzweig: The Radical Romantic of Canada (1994). As a performer and chamber musician Keillor has given many premieres of new Canadian repertoire. Her recent recordings, praised for their "impeccable pianism," include Legend of the First Rabbit (Studea Musica 1999) and Views of the Piano Sonata (CSCD-1002). In 1999 Dr. Keillor was the inaugural recipient of the Canadian Women's Mentor Award, Arts and Culture category.