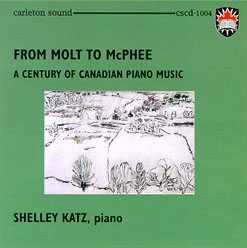 Close-up image of the Cover Art
(Audio sample (MP3):
Trois Pièces brèves: No. 2 Apaisement (Tanguay)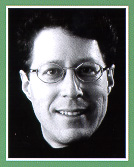 Shelley Katz
FROM MOLT TO McPHEE - A CENTURY OF CANADIAN PIANO MUSIC
SHELLEY KATZ, piano
"The Canadian pianist Shelley Katz presents an attractive recital of music by his compatriots..."
"Katz plays this music with affection and skill, not overstating the slighter pieces, and he has the bravura to carry off the more showy moments." ...John Kersey, International Record Review
In the 1760s Canadians were still trying to adjust to the major changes that had taken place in their country. Keyboard instruments were not plentiful and the best instruments of the French colonial period had in most cases returned with the more well-to-do families to France. F. H. Glackemeyer, bandmaster of one of the German mercenary regiments used by the British, arrived in 1776. He complained that his students, Misses Augusta and Frederika von Riedesel, would make better progress if they had a better spinet. By the early 1780s several merchants including Glackemeyer were advertising "elegant piano fortes" for sale in Quebec City, Montreal, and Halifax. Also teachers of this relatively new keyboard instrument became more available. Before the end of the century pieces were being written out and even composed in Canada to play on the fortepiano.
Theodore F. Molt (1795-1856) settled in Quebec City in 1823 and married the daughter of Glackemeyer. His brilliant set of variations Post Horn Waltz with Variations [Track 1] were published in Philadelphia and may have been written before his residence in Canada. Molt did return to Europe at least once after settling in Canada. During that visit he met Beethoven who wrote a canon for him called Freu Dich des Lebens on 16 December 1825. This manuscript is now part of the collection of the National Library of Canada, Music Division.
Jean-Chrysostome Brauneis (1814-1871), the son of a German immigrant musician, appears to be after Louis Jolliet, the seventeenth-century explorer, the first Canadian-born professional musician to obtain musical training in Europe. He returned to Montreal in 1833 to teach various instruments and music theory. The St-Jean Baptiste Society, the national fellowship of French-Canadians for whom Brauneis wrote the Marche [Track 20], was founded in 1834 and selected as its emblems, the maple leaf and the beaver.
George W. Strathy (1818-1890), a native of Scotland, settled in Toronto around 1847 after studies in Germany. He is the first person in Canada known to have received the degree Doctor of Music (Trinity College, Toronto, 1858). His Caprice di bravura [Track 18], written in 1889, was dedicated to the Canadian pianist Harry Field (1862-1945) who established an international career as a touring artist after making his professional debut in Leipzig in 1887.
Charles Wugk Sabatier (1819-1862), born in France, immigrated to Montreal around 1848. His Mazurka caprice [Track 19] is obviously influenced by the mazurkas of Chopin that he would have studied at the Paris Conservatoire.
Gustave Gagnon (1842-1930), the brother of the famed folk-song collector Ernest Gagnon, studied in France and Germany from 1870 to 1872, before resuming his activities in Canada as an organist and music teacher. Reflets du passé [Track 4] published in 1859 reveals that Canadian musicians knew the piano repertoire of Chopin by the mid-nineteenth century.
Calixa Lavalleé (1849-1891) is Canada's most noted nineteenth-century composer who wrote operas, songs, orchestral and chamber music. His extant piano pieces are all in the genre of characteristic pieces although as a pianist himself he performed piano sonatas by Beethoven among other major piano works. Except for Vole au vent [Track 2] which appeared in a periodical published in Montreal in the 1870s, the other works presented here are from American publications. From the 1860s are The Ellinger Polka [Track 14] and L'oiseau mouche [Track 17]. Valse de salon [Track 16], published in 1886, was dedicated to his friend Louis Maas of Boston where Lavalleé performed and taught during the last decade of his life.
Alexis Contant (1858-1918) was entirely trained by Canadians including Lavalleé. Later composing several masses, oratorios, a wonderful Piano Trio, songs and orchestral music, his first published work La Lyre enchanteé [Track 3] in the style of Chopin was so popular that it went through two editions.
Clarence Lucas (1866-1947), born on the Six Nations Reserve near Brantford where his father was a missionary, received his early music education in Montreal before going to Paris for further studies. Although he returned to Canada where he taught in various centres until 1893, his later career was based in London, England, New York, and France as an orchestra conductor, journalist, and music editor. Many of his compositions were published abroad including Ariel [Track 12] in 1913. It is inspired by his love of Shakespeare as exemplified in the orchestral overtures he wrote for Othello, As You Like It, and Macbeth.
Émiliano Renaud (1875-1932) established himself as a virtuoso pianist of international stature and was highly regarded as well as a piano teacher. In 1918 he launched a method of teaching piano with the aid of records, the Renaud-Phone Piano Method, which was endorsed by Paderewski. His Berceuse [Track 15] was published in Boston in 1912.
Georges-Émile Tanguay (1893-1964) had his early musical training in his native Quebec City before further studies in piano, organ, and composition in France and New York. With his activities as organist and teacher in Montreal from 1925 on, he had relatively little time to devote himself to composition. Written in 1914 and 1920 respectively, Pavane [Track 13] and Trois Pièces brèves [Tracks 9 - 11] reveal his absorption of new sonorities and approaches to music composition from Debussy.
Colin McPhee (1901-1964) growing up in Toronto was also interested in finding new sounds for the twentieth century. At the age of 12 he wrote a piece for children's percussion band with a few strings. As he later said " I had various ideas for effects but at the end, on the last two chords, two plates had to be dropped and smashed. The effect was not so good, but I was thinking of frail china splintered on marble." Written three years later, Four Piano Sketches [Tracks 5 - 8] show his continuing search for new sounds, particularly in the ending. McPhee said that he finally found the sounds he was searching for when he discovered the gamelan music of Bali. In the 1930s he became an expert on this music and is regarded by the Balinese as the person who saved their rich, classical traditions. From his close study of their music he evolved a technique of composition which today is known as minimalism, but which McPhee used in his famous orchestral work Tabuh-Tabuhan (1936). I
Shelley Katz - Concert Pianist
In Berlin "Katz played with such vitality, expressiveness and technical prowess that one can hardly think of a comparable concert in recent years" (Die Welt). In London Musical Opinion declared: "Katz - nearly purrfect!" Multifaceted musician Shelley Katz was born in Montreal and won his first national competition at the age of six, beginning his professional career with appearances at Expo '67 and for CBC. After studying at the Conservatoire de Musique in Montreal, he completed his Bachelor and Master of Music degrees as a scholarship student at the Julliard School in New York. Concerts across North America including appearances at Carnegie Recital Hall followed his graduation. Katz then moved to Europe where he continued to perform as a soloist, conducted in opera houses, and developed concert and recording relationships with some of the world's leading singers, including Nicolai Gedda, Dame Gwyneth Jones, and Katia Ricciarelli. From a position as Assistant Music director in Mainz, Germany, Katz moved to England where he completed a multi-disciplinary PhD. His performance career has taken him throughout the world, from the Santury Hall in Tokyo to the Musikverein in Vienna, from the San Giorgio festival in Venice to the Wigmore Hall in London. Recent recordings include his acclaimed rendition of the Goldberg Variations, and a recording of Schumann's Dichterliebe with Jochen Kowalski. Currently, together with the outstanding Canadian Lyric-Coloratura Diana Gilchrist, Katz is one of the 'Musicians in Residence' at the English campus of Queen's University in Herstmonceux.