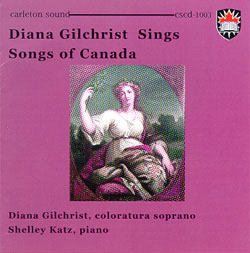 Close-up image of the Cover Art
Audio sample (MP3):
Spirit of Life (Dichmont)



Diana Gilchrist
DIANA GILCHRIST SINGS SONGS OF CANADA
"Diana Gilchrist sings very prettily throughout..."
"Shelley Katz provides sensitive support..."
"The recital as a whole is redolent of the charming new-world social event known as the 'musicale.' Some North American listeners may also be reminded of a chocolate selection called 'Whitman's Sampler', packaged in a nostalgic 'retro' box decorated with homespun needlepoint graphics. Anyone who likes the sound of that may also enjoy this musical sampler, which conceals a few tough nuts and chewy surprises among the soft centres" ....Stephen Pruslin, International Record Review.
In the earliest written descriptions of the geographical area now known as Canada, references are made to singing. Until ca. 1780, these allude to the singing of orally-transmitted songs of the Indigenous peoples, folksongs of European origin such as A la clairefontaine or the chants of the Roman Catholic church. In the late eighteenth century evidence begins to accumulate that Canadians were also performing secular songs, some originating in Europe and others being produced by local musicians. For example, a music book of Cécile Lagueux, 107 pages in length, includes four patriotic songs, an occasional song of 1792, two voyageur songs with piano accompaniment provided by Friedrich Glackemeyer, two romances, seven songs plus instrumental music and dances.
Between 1790 and 1860 vocal composition was the most popular type of music. These consisted of art, popular, and patriotic songs with piano accompaniment. The texts touched on topics such as love, absence, war or patriotism, and the human emotions connected with these subjects. Not surprisingly the approaches largely mirrored traditions of England, continental Europe, and increasingly in the nineteenth century those of the United States of America. Sometimes, though, these universal themes were placed within a clear Canadian context beyond that of being produced by a composer born or resident in Canada at the time.
Songs written with English texts were often strophic in structure, modeled to a degree on the orally transmitted folksongs. Most of these were known as parlor ballads to be used as home entertainment and at the occasional concert put together by a patriotic society or other organization. In addition to circulating in manuscript and publications of European and North American origin, many of these parlor ballads appeared in periodicals. Oh! No. We Never Talk French [Track 12] appeared in the Literary Garland during its first year of publication, 1843. Its bilingual text does not mention the Francophone population in Canada, but possibly suggests that residents of the city could switch from one language to the other. In parlor songs and a patriotic song such as When Johnny Canuck Comes Home [Track 18], which glorifies Canada's role in the Boer War, the piano accompaniment harmonically supports the voice.
Because of the influence of vocal writing in opera and operetta some songs have more demanding piano accompaniments and complex sectional structures as in The Fairy Song [Track 11]. Because Anglophone Canadians often went to German-speaking Europe for further musical education, their songs from the mid-nineteenth century on reflect the influence of the development of the Lied. Its structure could be through-composed to carefully reflect the various shades of textual meaning for which the piano accompaniment played a major role. W.O. Forsyth studied in Leipzig where his song Frühlingsabend [Track 7] was published with both German text and English translation. Similarly presented are Mädchenherz by Clarence Lucas [Track 5] and Glück by Gena Branscombe [Track 6]. Ernest MacMillan returned to Canada after his imprisonment during World War I at Ruhleben to write Songs from Sappho based on the words of the Canadian poet Bliss Carman [Track 2]. This same poetry provided the inspiration for the most recent song of this presentation, There is a Medlar Tree, by John Burge [Track 3]. Both songs use persistent ostinato figures and non-traditional harmonic usage, which frequently occur in writing of the twentieth century. To underline the horror of World War I which took the lives of so many Canadians in battle, Barbara Pentland uses the distance of the tritone between the two tonal centres, E flat minor and A major, in Ruins [Track 19].
Because Francophone composers were not influenced by Lied development through its French counterpart the melodie until late in the nineteenth century, the songs with French texts mostly fall into other categories. The light chansonette or parlor song romance were often interchangeable as in Lavigeur's Amour which places its square phrases into the popular nineteenth-century idiom of the waltz [Track 13]. L'Absence [Track 17] was published in the first issue of the periodical L'Album musical (1881). Lavallée, the composer of Canada's national anthem, was known for several successful operas. His Andalouse was written for Emma Juch, a famous opera singer of the day, and was composed using the idiom of the Spanish bolero [Track 20].
The other songs with French texts reflect developments of the twentieth century. In the religious song Petite prière Roy used text by a Canadian poet and based the musical idiom on renewed interest in medieval Gregorian chant using no metre [Track 4]. As indicated by the title, Albertine Morin-Labrecque in Mélodie composed varied sections including recitative [Track 9]. A similar approach with periodic ostinatos provided by the piano accompaniment and more adventurous harmonic combinations can be noted in two songs of the 1920s, L'image dans l'eau [Track 10] and Vous chantez, Payse... [Track 8].
ELAINE KEILLOR
DIANA GILCHRIST, coloratura soprano
Diana Gilchrist, who is best known for her command of the coloratura operatic repertoire has been described as having: "Outstanding vocal confidence, a technique with laser clarity and flexibility, a captivating stage presence" (Das Orchester). After completing a music degree at Carleton University in Canada and spending four years as the founding Artistic Director of Opera Lyra Ottawa, she studied in New York and London. During her first engagement as a soloist in a German opera house (Koblenz) she sang Gilda, (Rigoletto), Susannah (Marriage of Figaro) and the title role in Janacek's Cunning Vixen. She made her debut at the Vienna VolksOper singing Queen of the Night, returning to sing Olympia in The Tales of Hoffinann. Since then she has guested widely throughout Europe with these and other roles including Zerbinetta (Ariadne auf Naxos). In Berlin, she recently sang Queen of the Night in the acclaimed Tabori production of Mozart's Magic Flute of which a highly rated arts film has been made. Diana also performs as soloist with leading orchestras including the Royal Philharmonic, the Brandenburg Philharmonie and the BBC Symphony. During 2 the last dozen years Diana and her husband Shelley Katz have performed regularly together on the concert platform and for radio and television. They now live in England with their two sons where they serve as Musicians in Residence at Queen's Herstmonceux Castle International Study Centre while continuing to enjoy busy performance careers.
SHELLEY KATZ, piano
In Berlin "Katz played with such vitality, expressiveness and technical prowess that one can hardly think of a comparable concert in recent years" (Die Welt). In London Musical Opinion declared: "Katz - nearly purrfect!" Multifaceted musician Shelley Katz was born in Montreal and won his first national competition at the age of six, beginning his professional career with appearances at Expo '67 and for CBC. After studying at the Conservatoire de Musique in Montreal, he completed his Bachelor and Master of Music degrees as a scholarship student at the Julliard School in New York. Concerts across North America including appearances at Carnegie Recital Hall followed his graduation. Katz then moved to Europe where he continued to perform as a soloist, conducted in opera houses, and developed concert and recording relationships with some of the world's leading singers, including Nicolai Gedda, Dame Gwyneth Jones, and Katia Ricciarelli. From a position as Assistant Music director in Mainz, Germany, Katz moved to England where he completed a multi-disciplinary PhD. His performance career has taken him throughout the world, from the Santury Hall in Tokyo to the Musikverein in Vienna, from the San Giorgio festival in Venice to the Wigmore Hall in London. Recent recordings include his acclaimed rendition of the Goldberg Variations, and a recording of Schumann's Dichterliebe with Jochen Kowalski. Currently, together with the outstanding Canadian Lyric-Coloratura Diana Gilchrist, Katz is one of the 'Musicians in Residence' at the English campus of Queen's University in Herstmonceux.
The CD liner notes contain the complete text and translation of all of the songs.