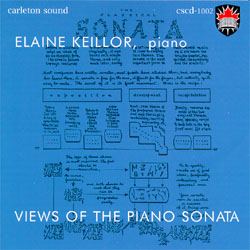 Close-up image of the Cover Art
RealAudio (G2) sample: Moderato from
Marianna von Auenbrugger's Sonata per il
Clavicembalo o Forte piano

CD Review - "Views of the Piano Sonata," Elaine Keillor, piano
By Margaret Lucia
Carleton Sound, CSCD-1002
The unassuming title of this disc, "Views of the Piano Sonata," hardly does justice to the pianist, whose fine "view" achieves the triple coup of introducing four substantial yet infrequently heard works by women writing in that genre, of presenting an opportunity for comparison with compositions by male peers, and of offering the listener a fresh listening experience in the form at the same time. By her careful programming and impeccable pianism, Elaine Keillor, Canadian pianist and musicologist, has made a strong case for the continued value and flexibility of sonata form, whether it is utilized by women or men, writing in this century or two hundred years previously. Thus, the entire disc bears the distinctive mark of the modem scholar/performer - one who delights in making connections among seemingly dissimilar phenomena.
I confess to having had a certain skepticism at the outset; I anticipated a collection of works with little except their shared title to connect them. I was, however, amazed at the audible cohesiveness among this group, including (in order) works by Marianna von Auenbrugger (d. 1786), Fanny Mendelssohn Hensel (1805-47), Alban Berg (18851935), Georges Enesco (1881- 1955), Jean Coulthard (b. 1908), and Deirdre Piper (b. 1943). Together, they effectively and passionately illustrate sonata form alternatives which have developed alongside their more conventional (and more frequently performed) cousins. Keillor's helpful liner notes point this out, but the most effective proof of her thesis is the sound of these works themselves. That "sound" ranges from the vivacious graces of Viennese composer Auenbrugger's Sonate per il Clavicembalo o Forte Piano to the dark, ominousness of Berg's Sonata, written more than 125 years later. The connection between the two is provided by Fanny Hensel's G minor Sonata, a non-stop, passionate work in four movements, played without pause. Sounding more reminiscent of Franz [Liszt] than Felix, the work, with its chromaticism, extended tremolos, and poignant lyricism, expands our notions of sonata form in the first half of the 19th century. Indeed, Hensel's full-bodied texture and experimental design pave the way for the last gasp of romanticism as found in Berg's first opus-extravagance condensed into a single movement.
Keillor displays her ability to interpret romantic compositions like Hensel's and Berg's, with their constant agitation, as well as those conceived in more moderate proportions. She follows with Enesco's Sonata, a haunting yet texturally transparent work, which acts as a wonderful contrast to the Berg and also introduces the sonatas by Coulthard and Piper that follow. The precision and grace that Keillor brings to the delicate flourishes of Enesco's work also recall the right hand graces in Auenbrugger's Sonate.
The final two selections are both by Canadian composers: Jean Coulthard's rhapsodic three-movement Sonata, a product of the post World War 11 period (1947-48), and Deirdre Piper's one-movement Sonata fur Elaine, written in 1991. Keillor provides a much-needed hearing for the substantive work produced by the Canadian women. Accessible yet strongly affecting and created with craft and a delight in sound, these two compositions complete this well-conceived and beautifully executed disc.
Margaret Lucia is a pianist and Assistant Professor of Music at Shippensburg University in Pennsylvania. She is currently editing Ethel Smyth's Variations on an Original Theme in D-flat Major for piano and is also co-editing with cellist Terry King that composer's Trio for violin, cello and piano.