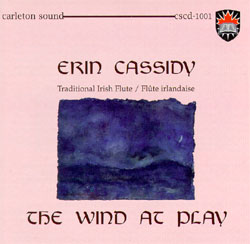 Close-up image of the Cover Art
RealAudio (G2) sample: The Rainy Day
RealAudio (G2) sample: The New Ivy Leaf

Debut CD... The Wind at Play, CSCD 1001 - Erin Cassidy
with James Stephens, Rob Graves and Ian Clark.
'The Wind at Play' is the compelling, first release from Irish-flute player Erin Cassidy. Cassidy and James Stephens, Cassidy's musical partner and co-producer have produced an album that takes a fresh approach to Celtic music and their arrangements give each selection a character and colour of its own. They blend the sounds of traditional and original celtic tunes with other traditional repertoire that reflects their diverse interests: Breton, Greek and Macedonian dance music, Bulgarian kaval tunes, South African pennywhistle traditions, and a little bit of swing, combined with a variety of wind and string instruments and hand percussion to create an innovate approach to Celtic music: The album showcases the richly expressive and energetic wooden flute and whistle playing of Cassidy, but well represents her ensemble's sound - James Stephens on fiddle, viola, cittern and banjo, Rob Graves on percussion including didgeridoo, kalimba, various hand drums and bells and shakers, and Ian Clark on guitars. Guest musicians include some of Ottawa's finest: Peter Kieswalter on clarinet, John Geggie on double bass, and Toronto-based Hohner world champion harmonica player Carlos del Junco.
This ensemble is making waves on the Celtic scene in Ottawa, Montreal, and Toronto with their debut release, with regular sellout concerts in Ottawa, appearances at the Ottawa Folk Festival and an upcoming appearance with the Boys of the Lough on Bravo TV's 'See and Hear the World' Series (Winter 1998). Cassidy's disc was chosen as the music for the Ottawa World Stages Theatre festival presentations this summer. Cassidy is becoming a favourite in the Montreal traditional music scene, where she is known for bringing her powerful and punchy sound, her dynamic presence and a challenging and varied repertoire to pub, club, and medieval evenings as well as ceilidhs.